The

Cinescape
Street Creativity Charter
Cross borders by making them soft and fuzzy
Creativity is about crossing borders.

Making those borders soft and fuzzy through the physical environment, communication and expression.
This allows people to affect their environment, shaping it and leaving their traces.
Make a poem if you dare in public space with light and sound, let the others come together with there movable urban furniture, blown up air chairs, send sms's, party or just enjoy being together on the street.
Because communications between people, the expression of feelings and thoughts is a way of softening the borders between private and public spaces.
We invite people to create "the Urban Village" within the city, where they can make a difference. By projecting funny messages on the house walls or by playing with the interactive sculptures, the children can transform the city streets into their private playground and bring the adults together.
Ownership of public space by shaping it and interacting with it creates a respect and a relevance to the surroundings. This will be an urban physical structure, where the sense of living in domain exist.
This is not Utopia to day. By using projectors, loudspeakers, interactive sensors and sculptures. It's possible to create an infrastructure for a new kind of street creativity.
A street creativity which is in every day life and which is breaking down borders between the private and public space.
A street creativity controlled by the people in the community.
This is the creation of what we call Cinescape.
Jan Hatt-Olsen, Poet/Artist, Copenhagen. Stina Jørgensen Student, University of Copenhagen. Gudmundur Arngrimson Student, Landscape Architect, Iceland. Ion Cotenescu, Student, University de Architectura, Bukarest. Ivana Kanzir, Kurator, Musuma of Cotemporary Art, Zagreb. Cizmic Milicia, Architect, Novi Sad, Serbia and Montenegro.
Made in Street Creativity Sessions in connection with City Living – Living City | the 6th European Biennial of Towns and Town Planners. Presented at the Biennial as a part of the Street Creativity Charter presentation June 11 2005.
The picture is from the Street Creativity Exhibition (one of the Biennials exhibitions)
<![if !vml]>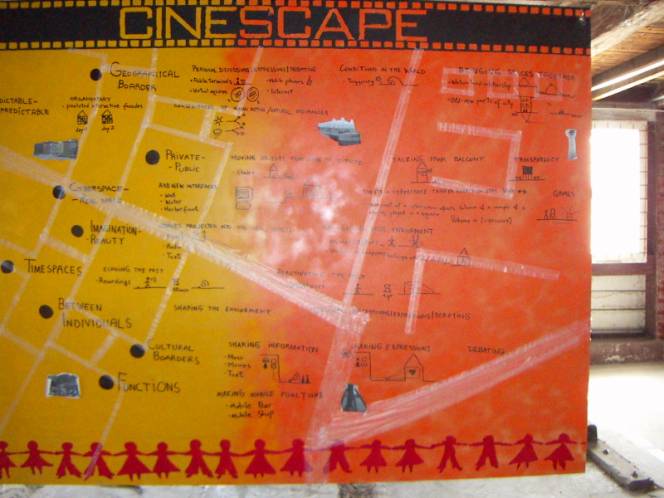 <![endif]>